Appearance: deep blacks. Little to no head, thin collar, nothing in the middle. Swirls momentarily thick along the edges.

Nose: dry and brittle. Chocolate flakes, chocolate bread. Finely ground espresso and coffee beans, fresh, oily, and estery. Whole roasted oats, toasted, and dipped in chocolate. Toasted and lightly singed marshmallows. Graham crackers?

Palate: lovely roasted oats married seamlessly with delicate chocolate and toasted marshmallows. Super soft mouthfeel oozes fresh whole oats; finishes toasted and chocolaty. Truffles. Toasted almonds. Not too long of a finish with flavor firmly centered in the middle of each quaff. Chocolate cakes.

Final Thoughts: my few previous experiences with Erie brewing hasn't been encouraging or enlightening, but I'm always welcome to be proven wrong. Sometimes the best surprises are the unexpected ones that rise to the occasion despite my preconceptions otherwise. Yum and yum. Groundbreaking? No, but darn tasty.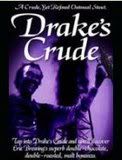 (an original written work by Kristyn Lier. plagiarism is not tolerated)