Appearance: deep mahoganies, lightly worn with age and time. No real head, just a few bubbly wisps which disappear as fast as they appear.

Nose: bourbon barrels hit first in all their vanillin caramel molasses goodness. Black root, black strap molasses. Boozed prunes, dates, figs, and earth. Black cherry cordial liquor. European chocolate fudge; burnt Ghirardelli dry and brittle.

Palate: surprisingly light, almost frothy mouthfeel and weight. Sweet then boozy then both. Heat and spice in the back. Black cherry cordials covered in chocolate, aged rum, caramels, and vanillin. Very intense in the middle. Earthy and rooty. Black strap molasses. Boozed figs, dates, and prunes. Coats middle of tongue and dries the sides.

Final Thoughts: I have two bottles aging, but how much longer she needs to age is up for debate. I don't think I'll hang onto them too long, but curiosity calls. In the meantime, if you should be lucky enough to get your hands on some of this rare beer released seemingly once every millennia, grab it and enjoy.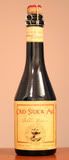 (an original written work by Kristyn Lier. plagiarism is not tolerated)