Appearance: lovely orange and coppers – like a shiny new penny. Pithy coppery head voluminous and soft. Recedes with lace and bubbles.

Nose: lemon, pink grapefruit, white grapefruit – freshly squeezed. Zesty, pulpy, and oily. Pine in the back. Hop cone oils sticky and sweet. Dew-dropped freshly cut grass.

Palate: sticky and mouth-coating. Honeycomb underneath and in finish. Orange oils – mandarin and nectarine. Pink grapefruit lingers back top of tongue after each quaff. Hop oils throughout. Orange and grapefruit continue to weave in and out. Lemon skirts the sides while a nice bitter citric skin finish brings lemon and grapefruit to the fore. Pine needles and hop oils in breath.

Final Thoughts: divine and delicious. Like every other beer from Surly Brewing I've tasted to date, a shining example of tastiness…in a can. May I have another, please.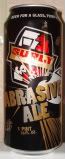 (an original written work by Kristyn Lier. plagiarism is not tolerated)